Officer Dashboard
Electronically supervise the criminal justice population previously omitted from any electronic monitoring platform.
eHawk Solutions has developed a more effective way to supervise offenders and other individuals and shape their behavior
Rather than observe the behavior and compliance of relatively few individuals, RePath can identify behavioral variations and anomalies in very large numbers of offenders through the utilization of enhanced monitoring, data analytics and extensive corrections and behavioral knowledge; all presented through our user-friendly RePath platform. The cost of our solution is significantly less than traditional monitoring, both financially and in terms of needs for internal agency resources, thereby making it available for potentially all individuals in corrections in a jurisdiction – not just a small percentage currently subjected to the traditionally obtrusive electronic monitoring measures.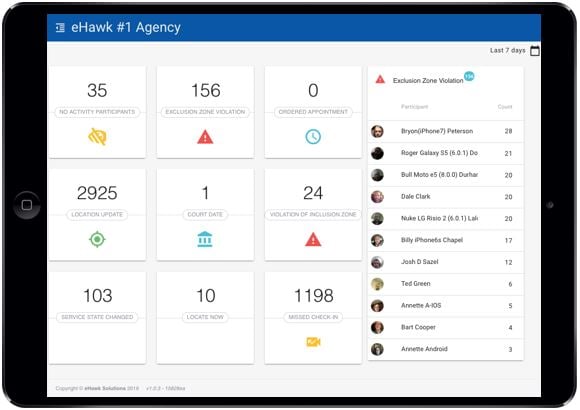 We Develop & Create Digital Future
RePath provides real-time, accurate, data driven offender management guidance to authorized agency personnel. With a scoring table embedded in our proprietary algorithm, agencies will now have a dynamic caseload management tool that allows the supervising officer to view a real-time list of offenders ordered by relevant risk/compliance level. We believe this dashboard list can become an effective "hit list", permitting the supervising agency to focus their time on those offenders most likely to recidivate based on data collected the day before and analyzed for their entire length of supervision while enrolled in the program.
Status of defendant
Geozones
Instant messaging
Instant defendant location
On-demand check-in
Relocation monitoring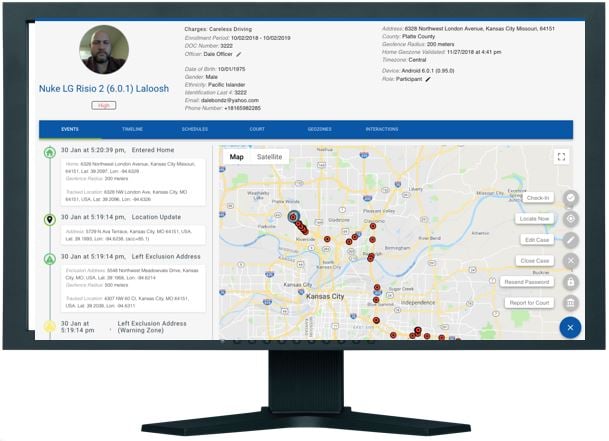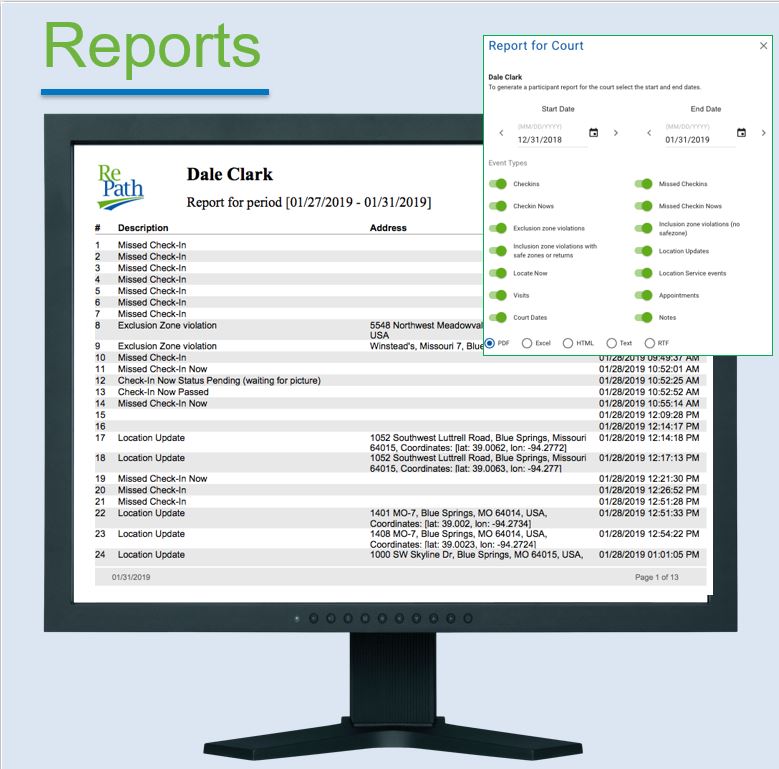 Automatic report generated for Court hearings
Summary Caseload
Summary Ad-hoc Report Creation
The check-in process is the initial means of assessing offender compliance within the RePath platform supervision program. Additionally, the application constantly runs in the background on the offender's phone, collecting GPS points multiple times an hour. The RePath Platform collects data automatically, compares it to historical location data and analyzes it for relevant deviations specific to each offender. Certain interactions between offenders can also be red-flagged for possible questionable associations as well as identifying potential "hot spots" for criminal activity. With the addition of geographical inclusion and exclusion zones, offenders can be "confined" to their residences (i.e., curfew confirmation) and monitored for travel restrictions.
Administrative Check-ins
Data is collected through an application downloaded on the offender's smartphone. The application automatically prompts the offender to conduct a check-in via the downloaded app. These check-ins can be scheduled by the supervising agency or occur randomly throughout the day. During each check-in, the offender provides user authentication information such as a real-time photo, personal questionnaire and/or fingerprint verification when such functionality is available on the phone. The process takes seconds to complete.